Since my last post, I have managed to finish another 2 of the sketches put up for the Sketch the Scraps competition over at
Scrapability Sketches
.
Round 2
, we had a choice of 2 sketches, or the bonus sketch which had added criteria which had to be met. So of course I decided to do the bonus sketch, and I actually had trouble meeting all the criteria, but I got there in the end.
I used the latest girl kit from
What is Old is New
, and apart from the alphas everything was included in the kit.
Close up:
Round 3
, isn't actually due until Wednesday but since Lily was at my parents all weekend, I managed to get it done early.
Close up:
I love that little Deer stamp (can you tell, I used it on two layouts in a row hahaha), it's a Stampin Up one that I got from
Alishia
just the other day.
Last week I showed you a sneakie, well now I can show you the whole thing.
Over at Scraps of Us, there was a sketch competition and and the winner had their sketch showcased by the DT.
Here's the sketch: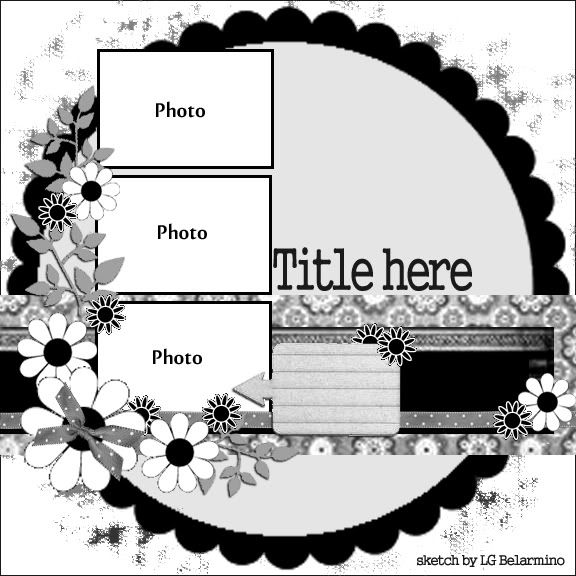 And my take:
In other news on Saturday we bought a new car!! We have two cars at the moment and it is killing us trying to keep up with the regos, insurance, services etc, when the second car is just driven 2km up the road to the train station. So we decided we were going to sell that car and just keep the outlander as our family car, but then being me, I wondered if we could maybe trade in both cars and get a newer one - turns out you can!
So we have bought a 2009 Hyundai Tucson, we havent got it yet as there were none in the car yard, but it was being unloaded at the dock on Saturday so we have been advised that in about 2 weeks we should be able to get it.
Mine is white (I cant tell if the car in this photo is white or silver), I of course want it right now, but the only car that they had in the lot was a black one, and 1) I am stinggy and didnt want to pay extra for metallic paint, 2) black in the WA summer would just be too hot, and finally 3) you actually have to wash black/dark cars as you can see every bit of dirt on them, and I just cant see myself doing that hahaha!
Better go see what Lily is doing
xx
Tamara